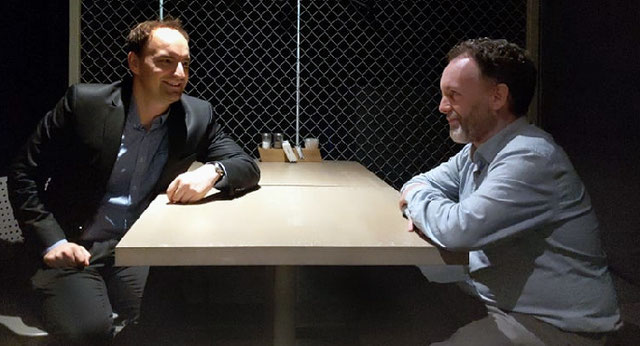 RONAN GOGGIN - Head of Public Information Department / Senior Spokesperson on the  European Union Advisory Mission (EUAM) Ukraine
D: What are the primary tasks of the EU Advisory Mission Ukraine?


R: Well, to give you the bigger picture the work of the EU Advisory Mission Ukraine you have to understand within the framework of EU's foreign and security policy. So, it is basically the foreign policy of the European Union and if you think, for example, of the United Nations which has peace-keeping missions all over the world, part of the EU's foreign security policy also has missions. So, there are various missions all over the world.


There are various EU missions all over the world: There are military missions and the civilian missions. The EU advisory mission is one of the ten civilian missions in the world. Five or six of those missions are in Africa and around four of them are in Eastern Europe and Central Asia: you might have heard of EULEX Kosovo, and there is a mission in Georgia, as well.


The other bigger picture to be aware of is the Association Agreement that was signed between the EU and Ukraine five years ago. So, the EU Advisory Mission is also part of that package of EU support to Ukraine. Specifically, the mission works with the law enforcement and rule-of-law agencies in Ukraine. So, we are talking about the National Police, and the Prosecution Service, and the State Security Service, and the Border Guard Service, and the Judiciary. EUAM is a team of experts and advisors in those areas that support the relevant Ukrainian ministries and agencies in their reform efforts.


We have various degrees of success. In Ukraine, the citizens have had high expectations of reform since Maidan revolution 5.5 years ago, and there's been some major of success in some reform areas but there are still big challenges remained. The country has managed to set up a number of anti-corruption agencies, it relaunched the National Police, for example. One area that the mission has been working in is in reforming public order practices – crowd management and stuff like that. We have the police to launch a new concept on public order that they have been quite successful in implementing. Then, we assist those agencies with new legislation – so, strategic advice, it is really a strategic advice mission that advises on legislation, strategies which are the foundation stones for reforms that they want to make.
So, that is generally what we do.

We also give them equipment, we do a lot of training – exercises in all of these areas. We donate equipment. Those are the three main pillars of what we do: strategic advice, practical support training, and donations of equipment.

D: How do you describe the cooperation and the support you receive from the Ukrainian authorities?

R: It really depends on which authorities and which agencies you are talking about. We mostly have quite good relations with all of the counterparts we work with. But, of course, there's political context to this as well, and, especially, with the former administration, there is reluctance to reform certain parts of the civilian security sector which is who we work with. So, for example, reform of the State Security Service (the intelligence agency) is very complicated, there's a reluctance to reform their really critical areas. Prosecution Service and the Judiciary is notoriously corrupt as well in Ukraine. So, there's vested interest and politics are at play which makes it difficult to achieve real meaningful sustainable reforms.


However, we have new government in place now that is very ambitious in what it said it wants to do. It' s proposed the whole load of new pieces of reform legislation that's in the parliament at the moment. And so, if the new government carries true with what it states it wants to do, then, maybe these're positive signs that the reforms will go deeper in the next six to twelve months. That's it.

D: The mission has been active since the Euromaidan revolution and it would last until Ukraine is a member of the European Union or is it an eternal mission?

R: I do not think there's any membership perspective on the horizon now. So, I mean, if you look at the lifespan of other civilian missions of the European Union, they could last ten or twelve years, it depends. It really depends on the situation. Well, typically, it does come to an end. Missions end at some point, and then new ones spring up, as well. This mission is only five years old.

D: How many employees are there?

R: Approximately 300 – mixture of international staff and national Ukrainian staff. So, I would imagine it's certainly gonna be there for another five years but who knows. How long the mission goes on – these are political choices that are made in Brussels.